A book tag that has been doing the rounds on YouTube is the Rapid Fire Book Tag which was created by Kate at GirlReading and it is one that I really enjoy watching so wanted to answer the questions myself. Without further ado, let's get started...
- E-Book or Physical Book?
Physical Book. But I like E-Books because I tend to read them quicker than paperbacks.
- Paperback or Hardback?
Paperback because they are just easier to read than a hardback.
- Online or In-Store Book Shopping?
Both because you can get cheap books online and in store.
- Trilogies or Series?
Trilogies because I am really terrible at
completing series in general so series are just too long.
Heroes because I have never been a fan of villains they are evil for a reason.
- A book you want everyone to read?
The Opposite of Loneliness by Marina Keegan because it is a great book but not many people have read it.
- Recommend an underrated book?
Radio Silence by Alice Oseman. Just a great diverse book.
- The last book you finished?
The Memory Book by Lara Avery which is a really good but heartbreaking book already out in America but not in the UK until 2017.
- The Last Book You Bought?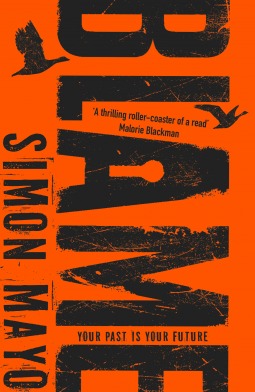 Blame by Simon Mayo? I don't know it has been a while since I brought a book as I have been on a book buying ban.
- Weirdest Thing You've Used as a Bookmark?
I often use my own arm as a bookmark so probably that.
YES! Not all of us can buy books full price.
- Top Three Favourite Genres?
Contemporary, Fantasy, Dystopia
Buy. I used to have a great library near me but I tried to go to my local library and it is not that good...
- Characters or Plot?
I often feel like characters make a bad plot better so characters.
- Long or Short Books?
Short books because they are fast to read and often get you out of a book slump.
- Long or Short Chapters?
Short Chapters because they make me feel like I am reading faster and I just like them.
- Name The First Three Books You Think Of...
The Maze Runner, Am I Normal Yet?, Twilight
- Books That Makes You Laugh or Cry?
Books That Make Me Laugh as a book has never made me cry.
- Our World or Fictional Worlds?
Books with fictional worlds set in our world.
- Audiobooks: Yes or No?
I have not really tried to listen to audiobooks so No I guess.
- Do You Ever Judge a Book by its Cover?
I want to say No but I guess we all do from time to time!
- Book to Movie or Book to TV Adaptations?
Book To Movie because out of the two they just tend to be better.
- A Movie or TV-Show You Preferred to its Book?
The Spectacular Now
- Series or Standalone's?
Standalones as like previously said I am terrible at series.
So that was the Rapid Fire Book Tag. If you want to do this tag, then I tag you to do.
See you soon,
Amy