So this month, the book that we all have been reading Hot Dog Girl by Jennifer Dugan. Instead of doing a full book review, here are five reasons why you should read the book...
Number 5: Rom-com vibes
I think that one of the reasons that I liked the book so much was due to the rom-com vibes. I think that the book does follow lots of the tropes of the rom-com genre, but I did enjoy it. I think that by having LGBTQ+ characters in this setting was interesting and it was nice to read and LGBTQ+ rom-com. I also think that the setting definitely plays into this idea as you can kind of guess what is going to happen. I still did, however, love the setting and was another great part of the story.

Number 4: The Romances
First I am going to say that everyone has different views on the romance stating that it often falls on the stereotypes that bisexual people face and are often shown in the literature. I definitely do see this view and do recognise that it was there. If you do want to find out more about this please find own voices reviews.
Although there are these criticisms I still did like the romance and thought that it was quite complex as the love interests are well-developed. I also liked how it played out, especially the friends to lover element.

Number 3: The References

I love a book that references other things and this book definitely does do that. It makes me feel like the world is often real and that I can connect to it. I especially loved the Doctor Who reference in this book because even the way that Duggan described it I knew the scene and all Doctor Who fans know the scene in question if they read it. I was just a bit shocked.

Number 2: It's a fast read
I found the book compulsorily readable and I read it super quickly. Granted it was partly because I was listening to the book by audiobook which made me really interested to see where the story went and progressed to. The book itself is just a really great summer read that I devoured.

Number 1: The characters
I think that the characters are really messy and relatable. This is what I love in book and all the characters were like this. I also think that the characters are complex, they are not two dimensional and Dugan knows how to develop them throughout the novel. I think that the fact that the characters are messy and potentially dislikable might be a negative for some people which I totally get but they worked for me.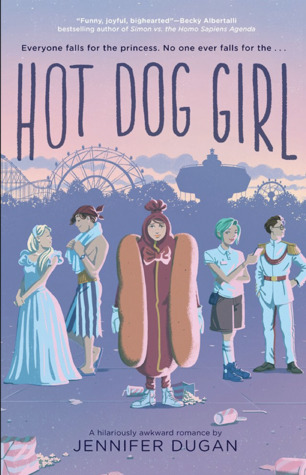 Here is a summary of the book...
Elouise (Lou) Parker is determined to have the absolute best, most impossibly epic summer of her life. There are just a few things standing in her way:
* She's landed a job at Magic Castle Playland . . . as a giant dancing hot dog.
* Her crush, the dreamy Diving Pirate Nick, already has a girlfriend, who is literally the Princess of the park. But Lou's never liked anyone, guy or otherwise, this much before, and now she wants a chance at her own happily ever after.
* Her best friend, Seeley, the carousel operator, who's always been up for anything, suddenly isn't when it comes to Lou's quest to set her up with the perfect girl or Lou's scheme to get close to Nick.
* And it turns out that this will be their last summer at Magic Castle Playland--ever--unless she can find a way to stop it from closing.
Jennifer Dugan's sparkling debut coming-of-age queer romance stars a princess, a pirate, a hot dog, and a carousel operator who find love--and themselves--in unexpected people and unforgettable places.
Check out the other members of The Three Hallows Book Club here:
Have you read Hot Dog Girl? Do you want to? Let me know in the comments below.