So on the 15th June, it was my four year blog anniversary which is crazy to me because it does not feel that long but I guess looking where I have come from stuff has changed massively in my life. I feel like in the last year I have managed to do some great things on my blog especially the Three Hallows Book Club which I do with Alex and Rachel, but I feel like I have disconnected with a lot of the community in the most part. I might write something about this soon but this is definitely something that I would like to improve on!
Since my first year, I hoped to track the changes in my blogging life especially in terms of my reading life. So let's get started...
Q1) Favourite Book
The Book Thief by Marcus Zusak- OK so this one hasn't changed. A book still has not beaten how I feel about this book. I don't think it will ever be beaten though but I would love to reread it soon.






Q2) What book do you hope to read in the next
year?
It's funny because of my answer last year was the
Northern Lights which I am finally reading but my answer will be
Muse Of Nightmares
by Laini Taylor as I really loved the first book!

Q3) Most anticipated read?
Let's Call It Doomsday by Katie Henry- I loved Heretics Anonymous so I can't wait to read her next book. I am also really lucky to have an ARC so hopefully, I can read it soon!






Q4) Which topic would you most like to write about on the blog within the next year?

I would love to write more fiction or just creative writing on my blog I guess.
Q5) Favourite Blog Post?

I really do like my Dear Amy Powis post as it means a lot to me.

Q6) Book you hate?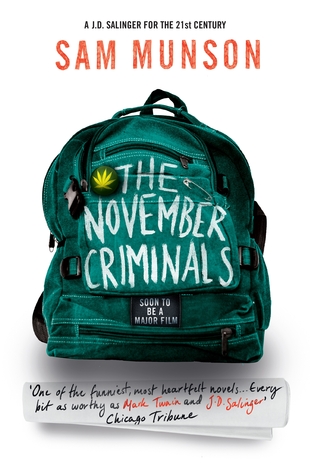 I dislike a lot of negative things about books but I can not support a book that
has Holocaust jokes and this is the
November Criminals
by Sam Munson so you can guess why I hate this book... This was my answer for last year as well and I just haven't read that many really bad books so it stays!





Q7) Which author do you want to meet and why?

John Green- I love John Green. I will probably never meet him but I really want to. Again this is the same answer as last year but I love the guy in a really platonic and admiration kind of way. I also mean Hank this year so I want to go two for two on the Green brothers.
Q8) Current read?
Northern Lights by Phillip Pullman-

I am finally reading this one and I do quite enjoy it although I would say that the start was very slow.
Q9) Next on your TBR?
I have been thinking about this for the last like five minutes and I don't really know. I have a lot that I am really excited about so it could be anything.


Q10) What is next for your blog?

Onwards and Upwards I hope!! I would also like to upload more regularly and to engage more with the book community!
So that's it! I still can't believe that I have been blogging for so long and hope to see you all next year!
See you soon,
Amy